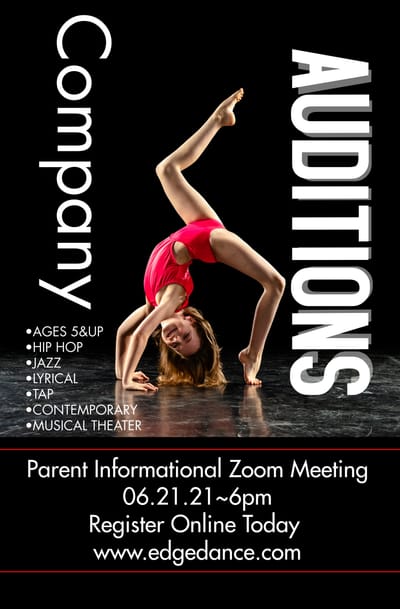 Edge Dance Company is open to dancers of all levels ages 5-18yrs.
We will be holding an informational parent meeting via Zoom on
Monday, June 21st at 6pm
You can register for the meeting using the link below.
Company Auditions Will Be Held
June 28th-July 1st
Register For The Parent Meeting Here
Sign up for Company Auditions using the links below. You must register for each day/style of dance that you intend to audition. An audition packet will be sent to you once you register.
Monday, June 28th 10am-12pm- Hip Hop
Tuesday, June 29th 10am-12pm- Jazz
Wednesday- June 30th 10am-12pm- Tap
Thursday, July 1st 10am-12pm Contemporary/Lyrical
Or You Can Register To Join Our Pre-Company or Performing Company Teams Using The Links Below.
Pre-Company- Ages 5yrs & Up- Register Here
Performing Company- Ages 5yrs & Up- Register Here
If you are not able to attend auditions during this week, you will need to schedule a private audition time. Please email:
office@edgedance.com
to set up a private audition time.