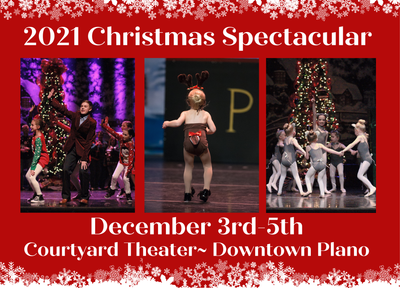 All Edge Dance students ages 2yrs & up are invited to participate in this holiday recital with us!
Save The Date:
2021 Christmas Spectacular
December 3rd-5th
Courtyard Theater- Downtown Plano
Cost to Participate: Includes your student's costume, tights (if necessary) and a digital download of the performance.
Twinkle Babies/Twinkle Stars: $99
Mini & Junior: $129
Level 1 & Higher: $149
We know that many of our students take multiple classes and may need additional costumes. Below is the cost for additional costumes.
Mini & Junior $ 75 each/ Level 1 and Higher $95 each
Tickets for the Christmas Spectacular will go on sale November 15th. Seating is reserved and can be purchased online. Tickets are $20 each.
If your student is in multiple classes, they may be in multiple shows.
The participation fee will be automatically charged to your class account on October 4th.
If your student will not be participating in the 2021 Christmas Spectacular, please submit this
OPT OUT
form by September 28th.