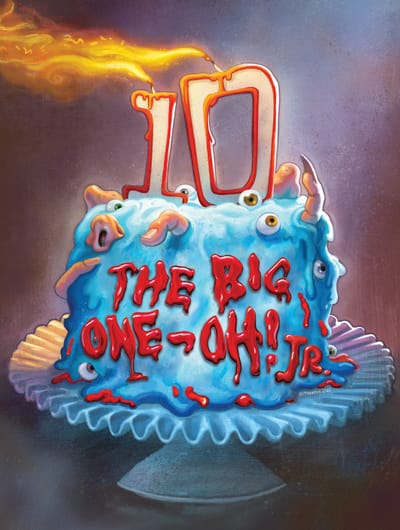 Charley Maplewood has never been one for parties – that would require friends, which he doesn't have. Well, unless you count his monster friends, but they're only imaginary. But now that he's turning ten—the big one-oh—he decides to throw a birthday party for himself, complete with a "House of Horrors" theme. Of course, things don't work out as he plans. Will Charley be able to pull it together before the big one-oh . . . becomes the big OH-NO!?
Based on the beloved book, The Big One-Oh! JR. features lyrics by Academy Award-winner (Fame, Footloose) Dean Pitchford, the author of the novel; music by three-time Tony-winner Doug Besterman (The Producers, Fosse, Elf, Young Frankenstein), and a book by iTheatric's award-winning playwright Timothy Allen McDonald (Roald Dahl's Willy Wonka, James and the Giant Peach).
Auditions Open To: Ages 7-18yrs
Auditions: Monday, May 8th & Saturday, May 13th Online RSVP is Required
Rehearsals: Wednesdays 6:30-9:00pm & Saturdays 12-2pm
Performances: August 11th-13th Courtyard Theater, Downtown Plano
Director: Caitlin Galloway
Be Prepared: To sing 16 Bars of Musical Theatre style song.
Bring:
A Head shot or Recent Photo & Resume if You Have One
Accompaniment Music/Backing Tracks For Your Audition Song
Dance Shoes
Tuition: $375 ($125 Each Month: June, July, August)
Click here to register to audition for
Monday, May 8th 7:30pm
Saturday, May 13th 12:00pm